Sikkim is a state in India that never fails to woo you. It doesn't matter how many tours in Sikkim you have made, it shows always something stunning and new to the travel mongers. And the 'variety in various things' cannot be explained in words. Whether it is food or dress, or the landscapes, or it may be activities for tourists –Sikkim can offer different options to you on everything. You will find yourself confused about what to attend first and how to attend all these things in your limited period of holidays in Sikkim.
If you seek for daring sports, if you feel the rush and like to go out and get sweaty doing different heart-throbbing kind of things rather than just enjoying a leisure tour, Sikkim is a perfect destination for your travel schedule. You are going to experience such exciting adventurous sports in Sikkim which undoubtedly need much physical strength, presence of mind and brave heart to do. To attend these daring activities in Sikkim, you should be very fit and healthy too for joining these sports. Among all the tourist activities of Sikkim, these eight are actually tops the level of thrill and excitement.
Mountaineering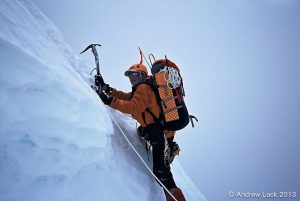 image credit: sportycious.com
Sikkim is surrounded by the mighty mountain peaks of higher Himalayan range like Mt Kanchenjunga, Mt Siniolchu, Mt Kabru, Mt Pandim, Mt Rathong etc, ranging from 21000 ft to over 27000 ft. Located in the lap of Himalayas, Sikkim doesn't only offer excellent view of the mountains, but also provides great opportunity to fulfil the dream of climbing the gigantic mountains.
Mountain Biking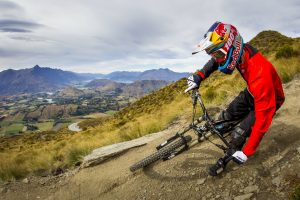 image credit: youtube.com
Are you quite fond of cycling? Do you like to take your cycle or bike off-road sometimes? You definitely have to try mountain biking in Sikkim. The steep hills, uneven lands, river-side roads, remote villages and unknown sites are amazing to explore the hidden beauty of Sikkim in a cycle-ride.
Trekking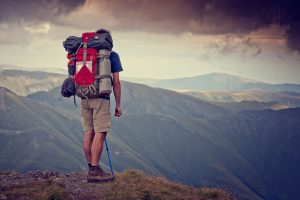 image credit: grabhouse
There is no travel monger who doesn't like to go trekking. Adventurous people throughout the world are mostly haunted by trekking, whether it is a trek to a mountain peak, a hill or a dense jungle. The sports-world call it as 'backpacking', as trekkers carry a backpack stuffed with all needed things. There are few locations in Northeast India like Sikkim which has such an elevated land that is beyond perfect and favourite to trekkers.
Hiking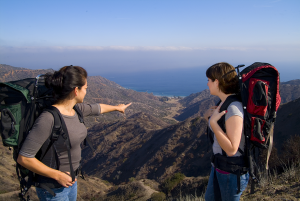 Hiking is one kind of trekking but as an easier level. It is like a long walk amongst jungles, hills, valleys etc, enjoying the universal beauty. It consumes less time and physical effort than trekking, but still can present excellent experience for you. Forest hiking in Sikkim is very popular among travellers.
River Rafting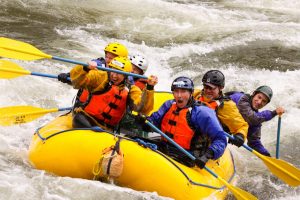 image credit: cantrellultimaterafting.com
Riding a raft in the white water of Teesta or Rangit rivers can be an ultimate excitement of your life. Raft is a lightweight water-ride that carries low centre of mass. It is very stable and inflatable, easy to navigate in the water. But make sure you know all the rules of river rafting or have an expert rider in your group.
Kayaking and Canoeing
image credit: en.wikipedia.org
These sports are not done in a group; you can do it either solo or in a team of two. Kayaking and canoeing in Sikkim are popular because the raging water of rivers create perfect opportunity of danger and thrill. But if you want it to be less risky, you can choose where waters are little bit placid.
Remember, there is a basic difference between a kayak and a canoe, while kayak-paddle has blade in both ends and the rider sits on low sit extended in front, canoe-paddle is bladed in one side and the rider sits in raised seat or at the bottom of the boat. Both look almost similar and far different than raft, of course. Watch the basic difference of these three water-rides in the sketch below.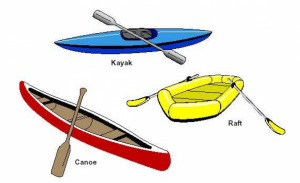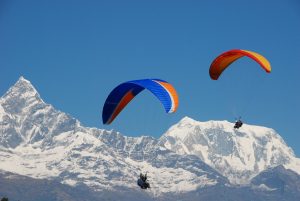 image credit: 365hops.com
Hang gliding and paragliding are very popular flight sports in Sikkim now-a-days. The flat lands in top of the hills serves excellently as launching point and the wide fields and valleys are suitable for landing. If you are about to enjoy a flying experience over the valleys, the hills and water bodies, flying high in the air like a bird, you should have proper knowledge regarding the techniques. Or you can enjoy a tandem flight in Sikkim, where an expert rider will ride the glider with you.