A country having more than 250 mountain peaks over 6096 m above sea level is definitely a haunting location for the travel mongers and adventure lovers. Which trekker wouldn't want to observe the world's highest mountain peak Mt Everest, situated on the border of Nepal and Tibet? Not only Everest, there are lots more peaks of Himalayan region in Nepal that ranks among the highest ones in the whole world. Along with the snow-clad mountains, Nepal contains lower hills, wide land of green dense jungle, Himalayan rivers and their valleys. No doubt, mountaineers and trekkers find this landlocked country of South Asia as an El Dorado in real world.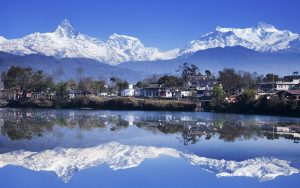 image credit: wallpaperwidehd.blogspot.com
It will be unfair to list down some of the hundreds of trekking routes in Nepal as every single one of them brings an experience of something different, something that cannot be found in other routes, although all of them offer excellent view of pleasing scenery. But it is not possible to write down about all of them, because that will result in more or less a size of a travel book. The mentioned trekking trails of Nepal here are based on popularity and different region and type. But if you think you like any other routes of trekking in Nepal, please mention that in comments to let others know about them.
Trekking in Everest Region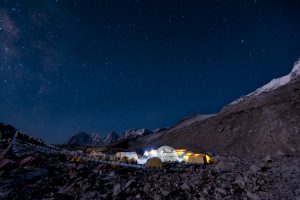 image credit: alextreadway.co.uk
It is a pinnacle to reach the summit of highest mountain of the world, which is known as the Everest Base Camp. Along with that route, the eastern half of Nepal or the Everest region offers a lot of other trekking routes including trek to Gokyo Lake, Gokyo-Kalapathar trekking, classic and long classic Everest trekking etc. These routes take more than a week to almost a month of time to finish and most of them are opened during September to May. Trekking are done highest upto 5545 m altitude in this area. The route to Everest Base Camp is more developed, but if you want some semi-wild routes, Nepal has that too for you. Every visitor here has an opportunity to pick a trekking trip by choice.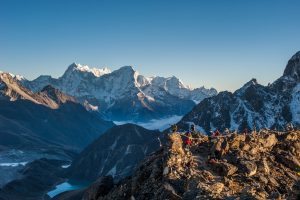 image credit: alextreadway.co.uk
Mountain peaks, glacier lakes, local flora and fauna, rhododendron forest, traditional villages and ancient monasteries are the purpose the trekkers from all around the world visit here. And you will even experience the ethnic groups that this region shelters, i. e., the Sherpas in the upper range and Rai, Brahmin, Tamang, Chetri farmers in lower ranges. All these natural and human things make this region beautiful in the true sense of the term.
Trekking in Annapurna Region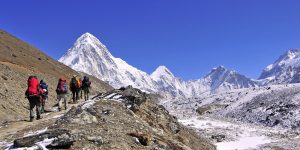 image credit: www.buddhatravel.co.nz
The Annapurna range and its region dominate on the middle of Nepal. Trekking to Annapurna Base Camp is a marvellous opportunity to experience nature's bliss upon earth. But do not keep the idea that the other ones are less in providing spectacular scenery. Trekking in Annapurna circuit, Jomsom/Muktinath, Tilicho Lake, Ghandruk, Mustang etc are ready to woo you with awesomeness. The highest trek camp here is at 5416 m above sea level and the trekking trips take more than a week to almost a month's duration to complete. The trails are opened mostly from October to May or September to May, while some are opened during April to November.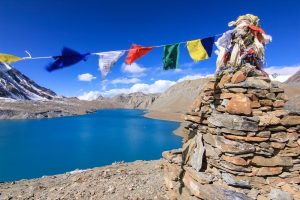 image credit: darshana-seeing-understanding.blogspot.com
The stunning horizons and snowy hills are so fascinating and the beauty is so unparallel that it even reflects in the lives of people living in and around the area. Hindu farmers to Tibetan Lamas –many ethnic groups and their culture are some of the key attractions about this area. Any kind of trekking here is an unforgettable event of lifetime. Annapurna region holds most popular trekking routes at Nepal. And not to forget, the Annapurna Conservation Area is the most geographically and culturally protected area.
Trekking in Langtang Region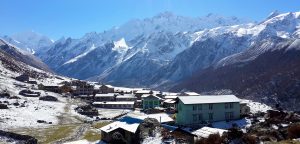 image credit: himalayanworldadventure.com
Among all the trek routes in Nepal, this area contains some best trek routes for tourists with least efforts. To the north of Kathmandu, Langtang valley shares border with Tibet. The valleys run north and south offering the greatest diversity of possible trekking trails. The trips here are destined to the areas of Langtang valley, Langtang-Gosainkund, Ganesh Himal, Ganja La Pass and other such exotic locations. Bu the highest altitude of these treks are much lower than above two, upto 5200 m., which take the duration of a week to around 15 days. The months of October to May and September to May are available to have a trekking trip in Langtang region.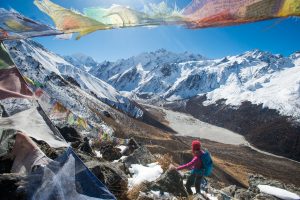 image credit: alextreadway.co.uk
One can encounter the Tamang people here and they carry a flavour of Tibet in the religious practice they follow, language they speak and the dress they wear. It is so clear that they seem to be more like Tibetan people and the other ones of Nepal. Besides, you are going to witness the most versatile form of flora and fauna of a place in this area under Himalayan range of Nepal. In the year of 1971, the area was declared as the first Himalayan National Park of Nepal.