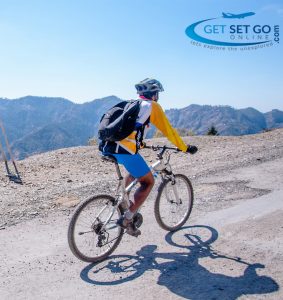 Mountain Biking is seems to be the best adventure tourism activity in the area of Sikkim. The area is rough and street condition is not generally the best. And of course you don't take the highway to ride your sport-bike. You experience the muddy, uneven, steep lands and feel the excitement every moment. With a bicycle, you can achieve places where your vehicle would not go.
Although biking activity in Eastern Himalayas is mostly meant for the international tourists, it is quick picking up popularity among the local sightseers, especially the youth. The flexibility of having the capacity to go at your own pace and to stop and begin at whatever point and wherever you feel like is additionally tempting to numerous. The sport has picked up prominence in the later past because of expanding worry about environment from one viewpoint and concern about health on the other.
The four districts of Sikkim, i. e, East, South, West and North, are ideal for adventure trips. Sikkim mountain biking is less dangerous in the first three districts as they offer lower and middle altitude biking opportunities. This adventure sport here is not limited for any season of course, but it should be safe to avoid the monsoon. There are several travel agents which organise biking tours in Sikkim. But be wise when you are choosing and bestowing your trust and money on one of them. Because their sincere service is what the matter of your safety is depending upon.
The routes for mountain biking trips in Sikkim are done the best in a long duration, usually more than a week. As the land is elevating, you have to ascend and descend a lot with your bicycle. Sikkim mountain biking routes can also include some adjoin areas of Darjeeling and Kalimpong, providing a lower altitude ride. Mostly visitors want to combine the tracks of mountain biking in Darjeeling and Sikkim. Random tourists can explore any of the exotic location of Sikkim on bicycle ride except for the North Sikkim. You can only participate in biking trips there if you are an expert in riding.
Well, these routes below are some of the best and most favourable ones for the riders. The duration of each route is an average one, depending upon the sightseeing you make on the way and the tour packages by tour operators in sikkim or travel agents in sikkim.
Route: Gangtok-Rumtek-Temi Tea Garden-Yuksom-Pelling-Hee-Kalimpong
Duration: 8 days
Route: Gangtok-Phedang-Singhik-Chungthang-Lachung-Yumthang-Chungthang-Lachen-Thangu-Choptag Valley-Kalapther-Lachen-Chungthang-Rangrang-Kabi-Gangtok
Duration: 14-15 days
Route: Gangtok-Martam-Temi-Ravangle-Tashiding-Yuksam-Pemayangste-Darjeeling
Duration: 9 days
Route: Gangtok-Rumtek-Sang-Sirwani-Temi-Damthang-Rabong-Kewzing-Tashiding-Yusum-Pelling-Dentam-Rinchenpong-Soreng-Sombaria-Jorthang-Namchi-Rangpo and back
Duration: 17 days
Route: Gangtok-Phodong-Rangrang-Dikchu Makha-Sirwani-Temi
Duration: 7 days
Route: Gangtok-Rumtek-Sangh-Sirwani-Temi-Namchi-Jorethang-Melli
Duration: 10 days
Route: Gangtok-Rumtek-Sang-Sirwani-Temi-Namchi-Namthang-Rangpo
Duration: 9 days
Route: Rangpo-Rhenock-Rongli-Barapathing-Pakyong-Ranipool-Gangtok-Rumtek-Sang-Temi-Ravang-Tashiding-Pelling-Khechopalri Lake-Yuksom-Rabong-Dikchu-Mangan-Lachung-Yumthang
Duration: 18 days