River Side camping in Sikkim and Darjeeling is the best way to experience the unspoiled beauty of nature and enjoy the tranquillity. It lets you fall asleep to the soft music of flowing water and wakes you up to the first magical rays of the sun. So it is perfect for a peaceful camping getaway, where the traveller can connect with nature. As you are on a riverbank, you can also enjoy fishing or other adventure activities like river rafting & hiking. While at night you can get to sleep amidst the stars and the harmony of nature, also have fun around a bonfire and enjoy a barbeque with friends.
So if you are up for some adventure and thrill, head to these riverside camping in Sikkim and Darjeeling for a stay away from the bustling crowd of the city. It lets you calm your senses and refresh your energy for a fresh battle in the city life once again.
Choosing a perfect camping place is rather more important and difficult than actual camping because a good place can make you forget about everything else in the world. So here is the list of 4 Campsites in Sikkim and Darjeeling Perfect for Adventure
1.Teesta (Bardang) Riverside Camping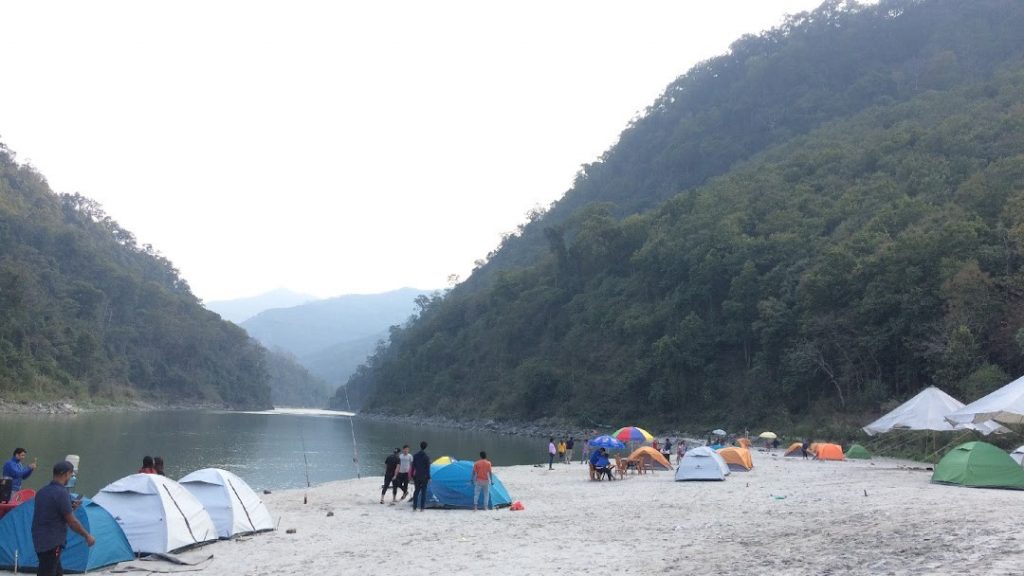 Camping at Bardang near Rangpo Bazar will give a perfect experience to adventure lovers. It's only 45 min drive from Gangtok. The campsite gives the amazing scenic and river view, as one can hear the sound of the river and birds around and relax in the lap of peaceful nature.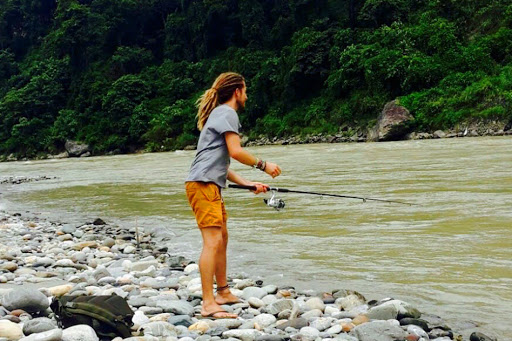 The campsite also offers you a vicinity to explore the campsite and a nature walk nearby. Further, enjoy the Bonfire followed by mouthwatering snacks and music and make a memorable evening with stargazing and beautiful sound of the Teesta river flowing near the camp.
How to reach the campsite:
Bardang is easily accessible to tourists from NJP Station, Bagdogra Airport or Gangtok, so sharing cabs are easily available or they can directly hire a cab to Bardang . It is located at a distance of 87 km from NJP and 92 km from Bagdogra approximately 3 hr 13 min via NH10. Similarly, it takes 45 minutes to travel from Gangtok to Bardang, the driving distance between Gangtok and Bardang is 30 km.
2.River camping in Suntale khola: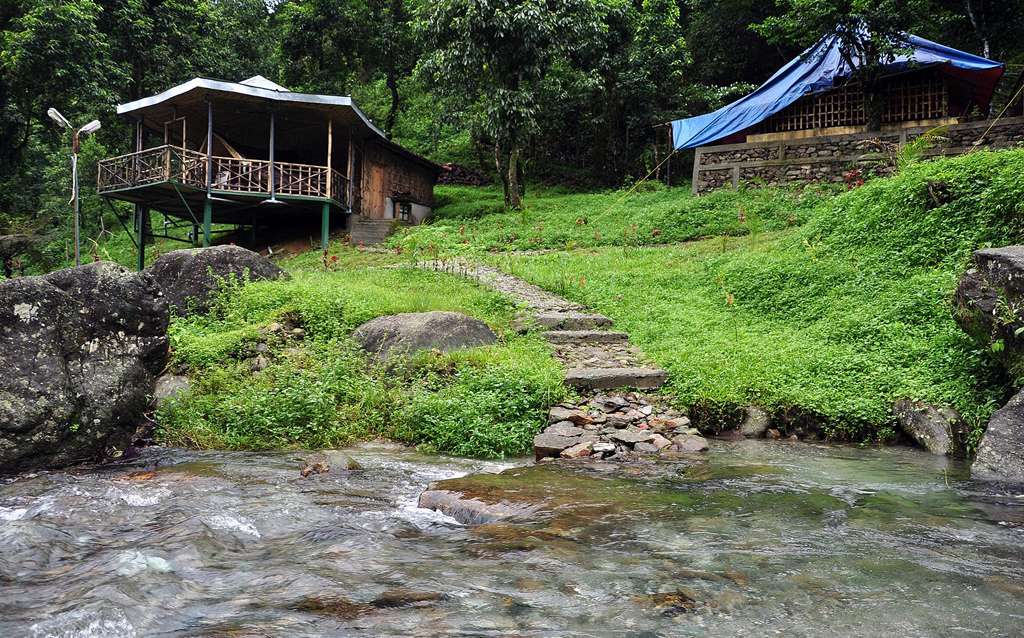 Away from the crowd and sounds of the bustling city life, Suntalekhola River Camp is the exact example of giving you an experience of the beauty and serenity of nature.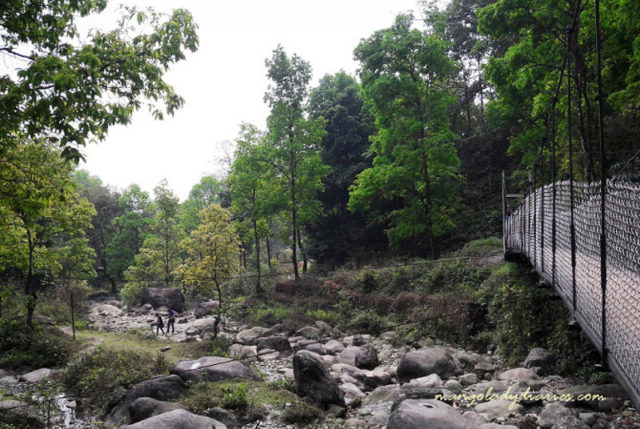 This river camp has 4 tents near River Murti. They are equipped with basic facilities and fresh food which gives you a feel of a simple and healthy life. If you love camping under an open night sky while taking the fresh air then Suntalekhola River Camp will let you experience these together. It will also bring you close to Mother Nature.
How to reach the campsite:
At a distance of 82 km from Siliguri, it takes about 3 hours to reach Samsing from Siliguri through the most picturesque landscape. As you enter Dooars through the National Highway 31, you will cross Malbazar to reach Chalsa. From Chalsa take a left turn and drive on for 15 km via Meteli to reach Samsing. The last few kilometres drive is a feast for the eyes as you pass through some of the most picturesque tea gardens of Dooars including the Chalsa Tea Garden, Zurantee Tea Garden, and Samsing Tea Garden. The road ends here close to a small stream named Suntale Khola (Suntaley = Orange and Khola = Stream). There are WBFDC cottages and a bicameral bungalow. You have to walk over a small hanging bridge to reach the WBFDC forest resort here.
3.Reshi Khola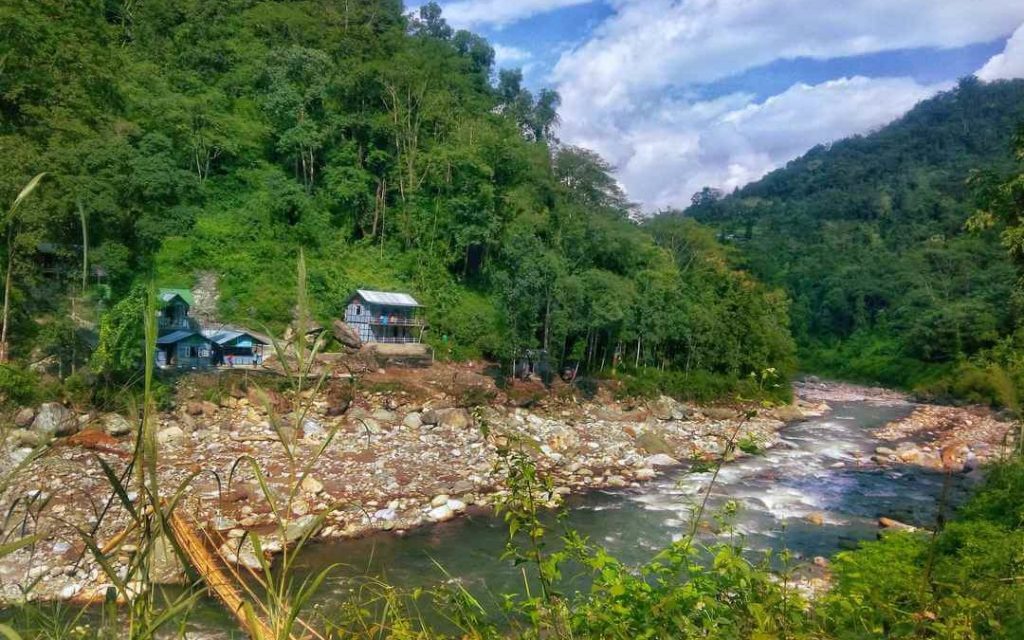 Reshi Khola or more commonly called Rishi is situated in the foothills of the eastern Himalayas in North-East India. It is, an emerging riverside tourist destination nestled in the Kalimpong subdivision offers a soothing refuge from the frantic city life. Reshi is a new tourist spot just on the bank of river Reshi which meets Teesta at Rangeet, the gateway of Sikkim. Topographically, Reshi Khola marks the division between the states of West Bengal and Sikkim. This border village of east Sikkim is surrounded by mountains and forest. Moreover, it is also the perfect stopover for the tourists travelling to The Silk Route tour as Reshi is an ideal camping ground and picnic spot.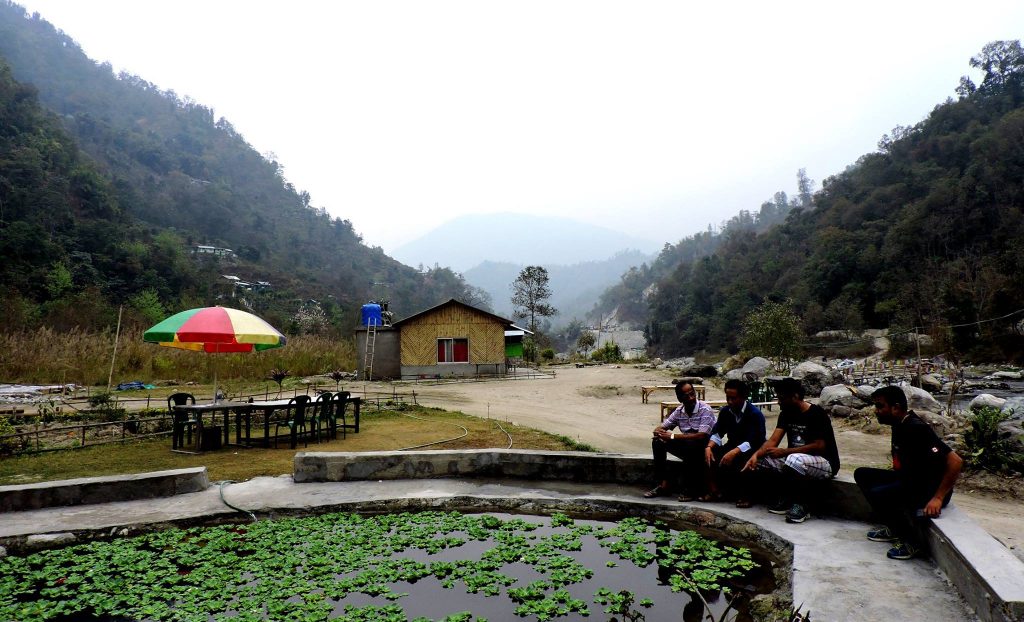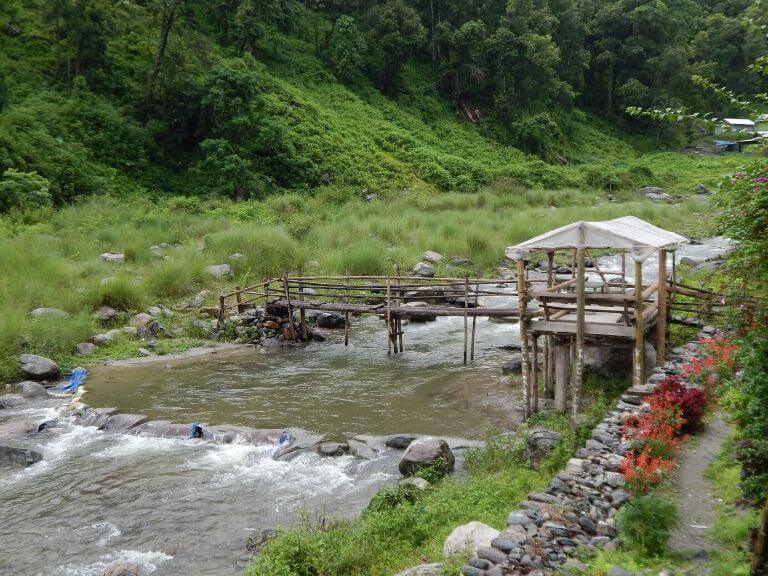 Reshi Khola is one of the very rare tourist destinations in Sikkim-West Bengal border, where once can stay just on the banks of the river and spend lazy time by listening the strong but sweet sound of flowing water. This place in surrounded by hills in all sides. Perfect for nature lover to enjoy the scerinity of the place and bath in the river or indulge themselves in fishing. This is also ideal place for picnic for group travellers.
How to reach the campsite:
Rishikhola is located at a distance of 105km from NJP and 110km from Bagdogra. Rishikhola is easily accessible to tourists through Kalimpong from NJP or directly hire a cab to Rishikhola. From Kalimpong, they will find local taxi towards Pedong and from Pedong Rishikhola is located at a distance of 15km. If visitors travelling from Gangtok, Sikkim then take the route via Tsomgo Lake, Baba Mandir, Kupup Valley, Zuluk, Rongli and reach Rishikhola, or one can reach directly Gangtok to Reshikholka via Rangpo and Rorathang or Gangtok to Reshikholka via Pakyong and Rorathang.
One can visit nearby places like Aritar, Rhenock and Rongli by hiring a car.
Also Read : Best Trekking expeditions in Sikkim
Triveni Campsite (The Meeting Point)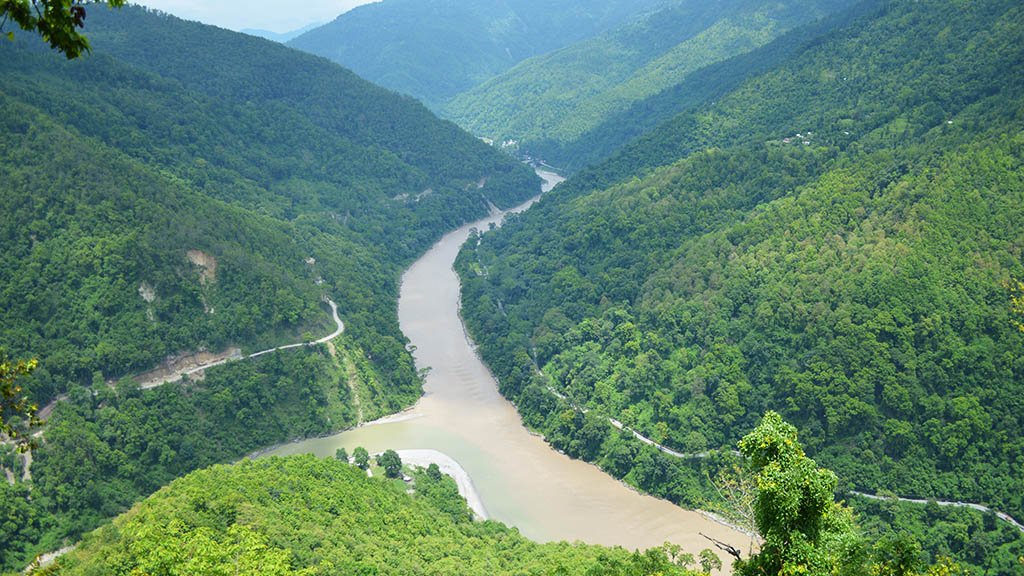 Triveni is a place where the river Rangit and River Teesta meets both of these are the main rivers of the State of Sikkim. Some call it Lover's point. Rangeet is considered to be a male river who meets his beloved Teesta at this point, hence the name 'Lover's point'. If you wish to be completely mind blown by all that nature has to offer to you then Triveni is a definite place for you to visit. In other words, the view from here just captivates you. The riverbanks of both the rivers have deep forests, with some patches of terraced cultivation, and small villages. Innumerable white sandy beaches offer good campsites. Therefore many tourists from different parts of India and locals too come here to spend quality time.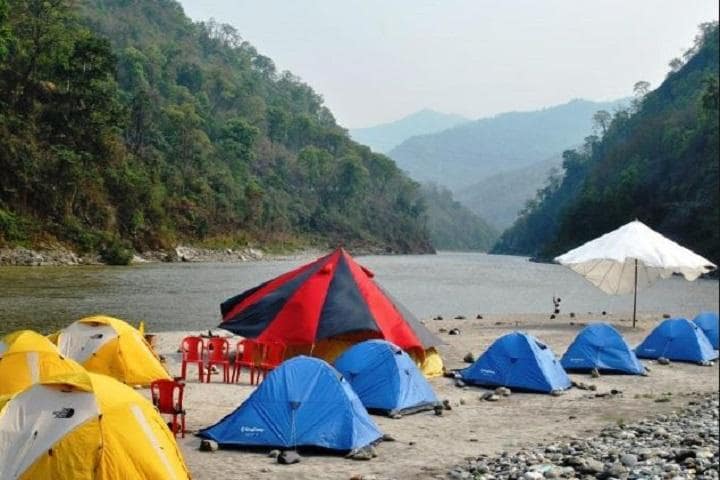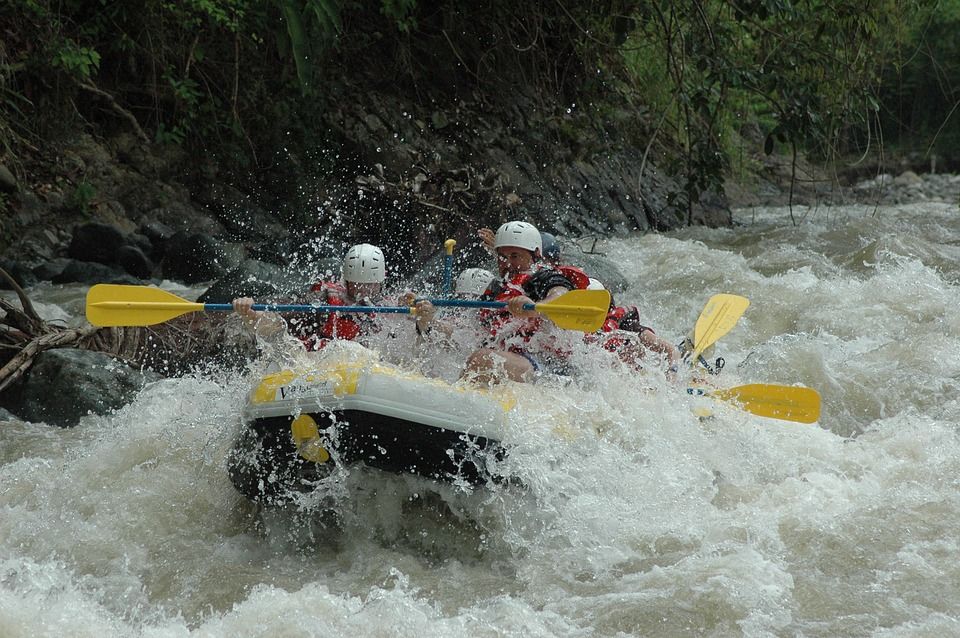 How to reach the campsite
New Jalpaiguri is the nearest Railway station and Bagdogra is the nearest Airport. So from both places, one has to head for the hills through Siliguri. While going uphill it is about 55 km from Siliguri which is approximately one and a half-hour drive.
Activities and Recreational Sports during River Side Camping in Sikkim/Darjeeling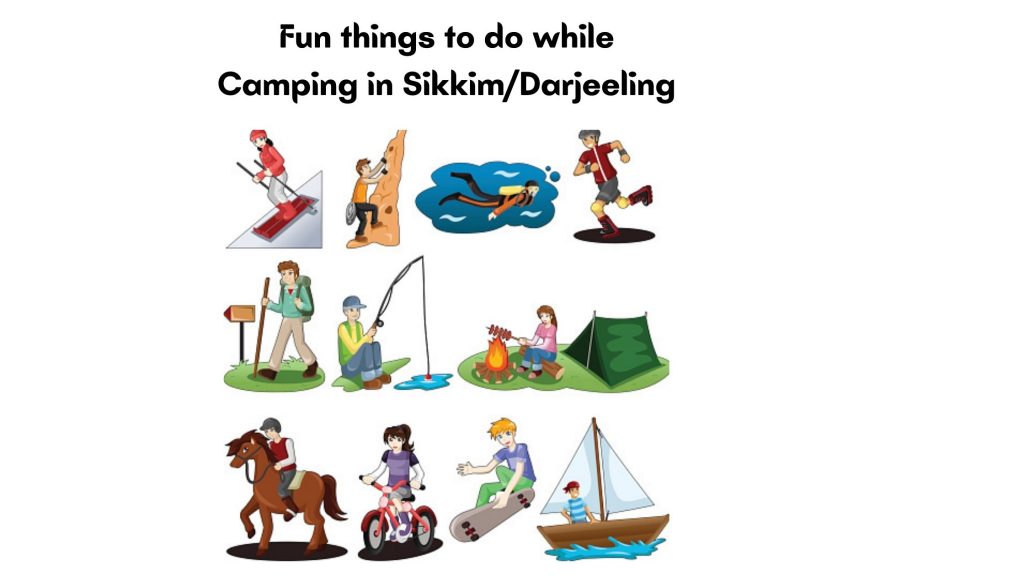 Angling or Fishing
River Rafting
Rock Climbing
Hiking
Cricket
Football
Badminton
Volleyball
Chess
Things to do at riverside camping in Sikkim/Darjeeling
Just relax beside the river
Boat ride
Feel the warmth of bonfire in the night
Playing sports activities on campground
Things to carry for riverside camping in Sikkim/Darjeeling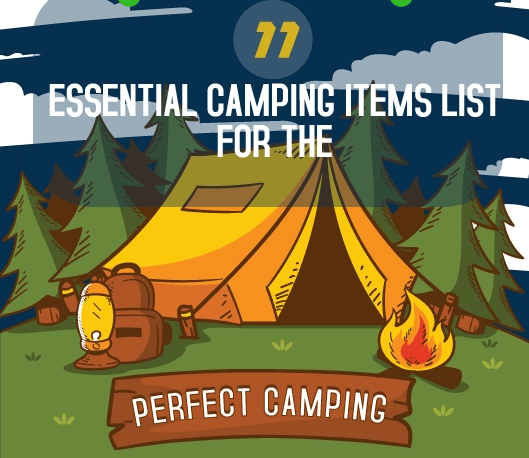 Torch
Personal medicines
Comfortable Footwear
Mosquito Repellent
Sunscreen
Extra Set of Clothes
Sunglasses
Flip Flops
Towel
Camera
Flashlight With Extra Batteries
Umbrella (during monsoon)
Safety tips for first-time river camping in Sikkim/Darjeeling: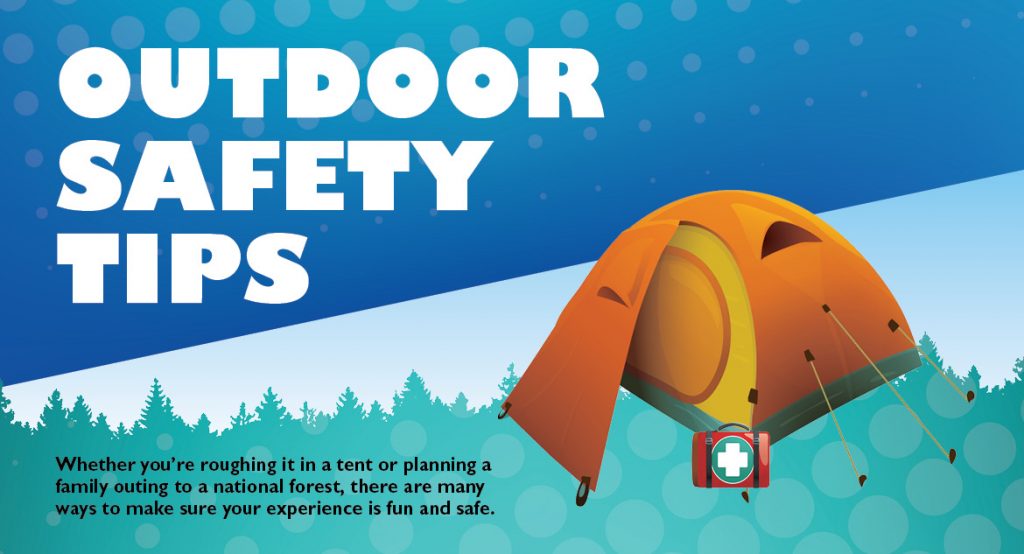 If you are a first-time camper then preparation is the most essential step to be taken before camping. You can start with:
Bring a first aid kit:
With all other safety tips keeping you prepared with first aid kit is a must to avoid any sort of cut or bruises or any other small accidents.
Keep a map:
We are used to GPS but you must keep a map while visiting any forest to avoid picking up the signal at times.
Practice safety towards water:
If you are going for a river camp then swimming and proper water safety guidelines are a must.
Practice safe fire:
No camping is fun without fire. But you must take precautions before starting your camping with fire.
Keep yourselves safe from animals:
The basic camping safety includes safety from animals. So, you must hike in the daytime to avoid any contact with animals.
Riverside camping provides you with a soothing and calming experience as you connect with nature in every possible way. Decode your next riverside camping trip in Sikkim and Darjeeling and enjoy with nature with the serenity of flowing water beside you.